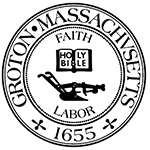 Town of Groton
Meeting Notice
Town Clerk
173 Main Street
Groton, MA 01450
(978) 448-1100
Montachusett Regional Planning Commission Meeting
Wednesday, March 20 2019 at 1:00 PM
Other: See Agenda, Specified in Agenda ,

This meeting was posted Thursday, March 14 2019 at 3:01 PM
Agenda
Posted: 3/14/2019 2:00 PM
MONTACHUSETT METROPOLITAN PLANNING ORGANIZATION (MPO) MEETING
WEDNESDAY, MARCH 20, 2019
1:00 PM
MONTACHUSETT REGIONAL PLANNING COMMISSION
464 ABBOTT AVENUE
LEOMINSTER, MA 01453
AGENDA
I. Introduction 1:00 p.m.
II. Public Comments 1:05 p.m.
III. Approval of February 20, 2019 Minutes 1:10 p.m.
IV. Montachusett FFY 2020-2024 Transportation Improvement Program (TIP) 1:15 p.m.
- Review of Funding Scenarios
V. Performance Based Planning Agreement 1:35 p.m.
- Comments and Feedback Discussion
VI. Montachusett 2020 Regional Transportation Plan (RTP) 1:45 p.m.
- Status and Workshop Results
- Online Survey Initial Results
VII. Montachusett FFY 2020 Unified Planning Work Program (UPWP) 2:00 p.m.
- Budget and Tasks Discussion
VIII. Updates 2:15 p.m.
- MassDOT Highway Division
- Transit
- Montachusett Joint Transportation Committee (MJTC)
- Montachusett Regional Planning Commission (MRPC)
IX. Administrative Matters 2:30 p.m.
- Next MPO Meeting
X. Adjournment 2:35 p.m.
Cc: City & Town Clerks: Please post this notice pursuant to MA General Laws, Chapter 30A, Section 18-25.
The listing of topics that the Chair reasonably anticipates will be discussed at the meeting is not intended as a guarantee of the topics that will have been discussed. Not all topics listed may in fact be discussed, and other topics not listed may also be brought up for discussion to the extent permitted by law.