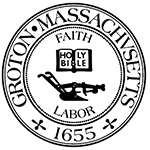 Town of Groton
Meeting Notice
Town Clerk
173 Main Street
Groton, MA 01450
(978) 448-1100
Conservation Commission Meeting
Thursday, February 28 2019 at 6:30 PM
Other: See Agenda, Specified in Agenda ,

This meeting was posted Tuesday, February 26 2019 at 12:48 PM
Agenda
2019 Groton Conservation Forum
When: Thursday, February 28, 2019 at 6:30 p.m.
Where: Lawrence Academy (Lawrence Academy Media Center Building), 26 Powderhouse Road, Groton Massaschusetts 01450
Purpose
For the various conservation organizations in Groton to discuss mutual concerns and interests, and to explore cross-group cooperation.
Format
The event will start with informal networking time from 18:30-19:00. Light refreshments will be available.
At 19:00, Professor Paul Catanzaro of UMass Extension will give a 30 to 45 minute presentation on forestry management.
After the presentation, each group will be introduced, with a brief synopsis of what they accomplished in the previous year, and what they plan to accomplish in the next year. This process is expected to take 10-15 minutes.
The remainder of the meeting will be a moderated discussion between attendees. It is hoped that hearing what other groups have done and plan to do will spur discussion about common interests. The focus will be on topics relevant to multiple organizations, and that benefit from having representatives from the many conservation organizations present at the same time.
Adjourn
The listing of topics that the Chair reasonably anticipates will be discussed at the meeting is not intended as a guarantee of the topics that will have been discussed. Not all topics listed may in fact be discussed, and other topics not listed may also be brought up for discussion to the extent permitted by law.