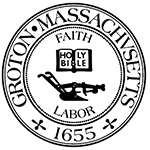 Town of Groton
Meeting Notice
Town Clerk
173 Main Street
Groton, MA 01450
(978) 448-1100
Groton-Dunstable Regional School Committee Meeting
Wednesday, February 13 2019 at 7:00 PM
Other: See Agenda, Specified in Agenda ,

This meeting was posted Monday, February 11 2019 at 2:36 PM
Agenda
NOTICE OF MEETING/AGENDA
Groton-Dunstable Regional School District OPM RFS SUBCOMMITTEE
Posted: 2.11.19/2:00 PM
AGENDA
Date of Meeting: February 13, 2019
Time of Meeting: 7:30 PM
Day of the Week: Wednesday
Location: Groton-Dunstable Regional Central Office, 344 Main St., Door 8, Groton, MA
1. Call Meeting to Order
2. Review of Initial Round Score Sheets
3. Identify Short List Candidates to be Interviewed - Vote may be taken
4. Distribution of Short List Candidate Reference Call Assignments
5. Review and Finalize Questions to be Asked During Reference Calls - Vote may be taken
6. Update and Distribute Reference Call Matrix to Subcommittee Members
7. Review of Draft OPM Contract Language and Included Services - Vote may be taken
8. Review and Identify Proposed Not To Exceed Fee for OPM RFS Services - Vote may be taken
9. Vote to Approve Meeting Minutes
10. Adjourn
The listing of topics that the Chair reasonably anticipates will be discussed at the meeting is not intended as a guarantee of the topics that will have been discussed. Not all topics listed may in fact be discussed, and other topics not listed may also be brought up for discussion to the extent permitted by law.