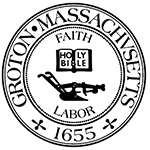 Town of Groton
Meeting Notice
Town Clerk
173 Main Street
Groton, MA 01450
(978) 448-1100
Early Childhood Advisory Council Meeting
Thursday, February 14 2019 at 11:30 AM
Boutwell School, 78 Hollis Street Groton, MA

This meeting was posted Monday, February 11 2019 at 1:30 PM
Agenda
Boutwell Early Childhood Center
Early Childhood Advisory Council
Thursday February 14, 2019 @ 11:30 a.m.
Boutwell Conference Room, 78 Hollis Street, Groton, MA
Agenda
Approval of minutes from 12-12-18
ECAC meeting dates: 2/14/19, 5/8/18 (add additional meetings if needed for specific topics)
Guest-Jana Harrison, Coordinated Family and Community Engagement (CFCE) Coordinator
Overview of CFCE Resources for Groton and Dunstable families
Planning Boutwell's next family event with help from Jana
Possible ideas: STEM, Caregiver/Child Play Event
New newsletter format--seeking feedback
Do parents like having information in advance instead of at the end of the week?
Best way to solicit input from other caregivers
Preferences for home/school communication content
Preferences around communication methods (ie email, Facebook, Twitter, telephone, flyers, etc)
The listing of topics that the Chair reasonably anticipates will be discussed at the meeting is not intended as a guarantee of the topics that will have been discussed. Not all topics listed may in fact be discussed, and other topics not listed may also be brought up for discussion to the extent permitted by law.