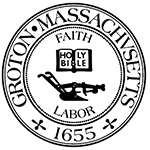 Town of Groton
Meeting Notice
Town Clerk
173 Main Street
Groton, MA 01450
(978) 448-1100
Trustees of the Groton Public Library Meeting - CANCELLED
Tuesday, February 12 2019 at 7:00 PM
Groton Public Library, 99 Main Street Groton, MA

This meeting was posted Wednesday, February 6 2019 at 8:10 AM
Agenda
Groton Public Library Trustees Meeting Agenda
Tuesday, February 12, 2019 at 7:00 pm
Community Room, First Floor
Groton Public Library, 99 Main St.
AGENDA
Call to Order
Unfinished Business
• Approval of Minutes from the January 8, 2019 Meeting
• Report on Action Items from Previous Meetings
• Review Trustees' Calendar for Current Month
New Business
• Report on Middlesex Bank Gift Ceremony
Standing Committee & Liaison Reports:
• Building & Equipment:
o GRLA 75% Bid Documents & Presentation Tomorrow
o Report on Historic District Comm. Meeting
o Report on Community Preservation Public Hearing
o Space Redesign Updates
• Budget & Finance:
o Report on Finance Committee & SB Meeting
o Q2 Update Reports
• Policy, Personnel, & Planning:
o Director Evaluation Revised/Updated Documents
o Food Policy Feedback from Staff Meeting
• Liaison Reports:
o GPL Endowment: Report on Meeting
o Art Committee
o National Historic Register
• Library Director:

o Hygge Café All Day
o Mr. Rogers Even
o Groton Reads
o Live Cable Show
o FY2020 CPA Grant, Support Letters
o BJ Anderson G. Herald Grant
o 2018 Annual Report to Town
o Monthly Report & Statistics
o Library Legislative Breakfast
o Other

• Other Business:
• Review of Action Items from Current Meeting
Adjournment
VOTES MAY BE TAKEN
The listing of topics that the Chair reasonably anticipates will be discussed at the meeting is not intended as a guarantee of the topics that will have been discussed. Not all topics listed may in fact be discussed, and other topics not listed may also be brought up for discussion to the extent permitted by law.