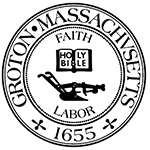 Town of Groton
Meeting Notice
Town Clerk
173 Main Street
Groton, MA 01450
(978) 448-1100
Park Commission Meeting
Monday, January 28 2019 at 7:30 PM
Town Hall: Lunch Room, 173 Main Street Groton, MA

This meeting was posted Wednesday, January 23 2019 at 9:39 AM
Agenda
Posting to reflect a room reservation for the Park Commission's 7:30 pm joint eeting with the Select Board.
After the joint meeting, the Park Commission will adjourn to the Second Floor Lunch Room
==============================
AGENDA
Groton Park Commission
Monday, January 28, 2019
Town Hall 173 Main Street, Groton, MA 01450
SECOND FLOOR MEETING ROOM
1. 7:30 pm Call to order
2. 7:30 pm Joint Meeting with the Select Board – Don Black appointment
Meeting will be adjourned to the SECOND FLOOR LUNCH ROOM
3. 8:00 pm GD Youth Lacrosse – Carolyn Southwick
4. 8:15 pm Recap Forge Village Neighborhood Meeting
5. Field Use Requests
6. Invoices and GL Account Balance Review
7. Capital Projects
8. Commissioners Update
9. Admin Updates
• Hazel -Grove annual report
• Town Report
• Cricket Program request

10. Policy and Procedure on bid submittals
11. Review and Approval of Minutes
12. Adjourn
The listing of topics that the Chair reasonably anticipates will be discussed at the meeting is not intended as a guarantee of the topics that will have been discussed. Not all topics listed may in fact be discussed, and other topics not listed may also be brought up for discussion to the extent permitted by law.