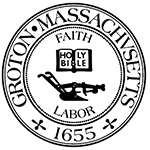 Town of Groton
Meeting Notice
Town Clerk
173 Main Street
Groton, MA 01450
(978) 448-1100
Upper Middlesex Regional Commission on the Status of Women Meeting
Wednesday, January 9 2019 at 6:00 PM
Other: See Agenda, Specified in Agenda ,

This meeting was posted Monday, January 7 2019 at 8:31 AM
Agenda
UMCSW
Agenda
January 9, 2019
6:00 p.m. – 8:00 p.m.
Arlington, MA Public Library, Community Room
700 Massachusetts Ave, Arlington, MA (781) 316-3200
1. Public Comment Time
2. Review of Minutes from November 7, 2019 Meeting
3. Speaker: James Saucedo, Massachusetts Coalition for the Homeless
a. Discussion of the Rent Arrearage Program
b. Discussion about endorsement
4. Discussion of partnering with the MCSW at the March 28, 2019, 4:30-6:30 p.m.
a. Role of UMCSW: general outreach and sharing of information
5. Update from Members on Action Items from Last Meeting
a. Report out from the Data Collection Subcommittee
b. Report out on the Grant Application Plan (Donna)
c. Summary Report from the statewide meeting
6. Discussion of Mission Statement development
a. Preliminary establishment of priorities
7. Open Discussion about agenda items for the March meeting.
8. Public Comment Time
The listing of topics that the Chair reasonably anticipates will be discussed at the meeting is not intended as a guarantee of the topics that will have been discussed. Not all topics listed may in fact be discussed, and other topics not listed may also be brought up for discussion to the extent permitted by law.