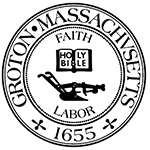 Town of Groton
Meeting Notice
Town Clerk
173 Main Street
Groton, MA 01450
(978) 448-1100
Conservation Commission Meeting
Tuesday, November 27 2018 at 6:30 PM
Town Hall: Second Floor Meeting Room, 173 Main Street Groton, MA

This meeting was posted Tuesday, November 20 2018 at 2:41 PM
Agenda
APPOINTMENTS AND HEARINGS*

6:30 p.m. – RDA, 279 Main Street, for the conversion of an asphalt driveway to lawn (Schwartz Family Trust).
6:45 p.m. – RDA, 167 Prescott Street, for renovation work on the decks of three cabins (Christian Carpenters LLC).
7:00 p.m. – NOI (cont.), NOI, Groton Country Club (94 Lovers Lane), for replacement of approx. 930 feet of irrigation lines (S. Campbell).
7:15 p.m. – NOI (cont.), NOI, for the construction of a shared driveway on the lot adjacent to 419 Old Ayer Road, filed by Patricia Madigan.
7:30 p.m. - RDA, Carol Wheeler Park, for the removal of a dying tree (Park Commission).
7:40 p.m. - Discussion with Tom Delaney regarding repair work at Fitch's Bridge.
7:55 p.m. - Discussion with Dave Grace regarding Flat Pond.
8:05 p.m. - RDA, Petapawag Conservation Area, for treatment of approx. a dozen ash trees against Emerald ash borer (Invasive Species Committee).
8:10 p.m. - RDA (cont.), 191 Pepperell Road, for the replacement of an existing failed sewage disposal system (G. Miller).
GENERAL BUSINESS*

Land Management

Gibbet Hill CR Monitoring Report
Surrenden Farm West – red pine removal update.
Other Land Management Business

Land Acquisition
Correspondences
Other Discussions
Committee Updates/Announcements
Order of Conditions – N/A
Certificate of Compliance
Approve Meeting Minutes
Invoices

Open Session for topics not reasonably anticipated 48 hours in advance of meeting*
Executive Session pursuant to MGL Ch. 30A, Sec. 21(6): * "To consider the purchase, exchange, lease, or value of real estate, if the chair declares that an open meeting may have a detrimental effect on the negotiating position of the public body."
Adjournment
*Votes may be taken
The listing of topics that the Chair reasonably anticipates will be discussed at the meeting is not intended as a guarantee of the topics that will have been discussed. Not all topics listed may in fact be discussed, and other topics not listed may also be brought up for discussion to the extent permitted by law.