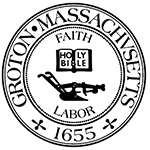 Town of Groton
Meeting Notice
Town Clerk
173 Main Street
Groton, MA 01450
(978) 448-1100
Park Commission Meeting
Tuesday, January 8 2019 at 7:00 PM
Town Hall: Second Floor Meeting Room, 173 Main Street Groton, MA

This meeting was posted Wednesday, January 2 2019 at 11:09 AM
Agenda
Agenda
Groton Park Commission
Tuesday, January 8, 2019 at 7:00 PM
Second Floor Meeting Room, Town Hall, 173 Main St.
7:00 pm Call meeting to order
1. Candidate interviews - Open Commissioner Seat
2. Don Black – Town Flag Care Taker Update
3. Baseball Fields – John Kelly
4. Field Use Permit Requests – Votes may be taken
5. Carol Wheeler Park – Tree removal
6. CPA application – Forge Village Neighborhood
a. Neighborhood Meeting
7. Commission Member Input/Updates
8. Admin. Updates
a. Hazel Grove tree work invoice.
b. Town Report
c. Other Updates
9. Review pending invoices - Votes may be taken
10. Review account balances
11. Approve Minutes of December 4, 2018
Adjourn
Next meeting
January 28, 2019
The listing of topics that the Chair reasonably anticipates will be discussed at the meeting is not intended as a guarantee of the topics that will have been discussed. Not all topics listed may in fact be discussed, and other topics not listed may also be brought up for discussion to the extent permitted by law.