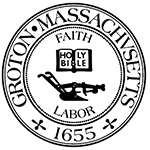 Town of Groton
Meeting Notice
Town Clerk
173 Main Street
Groton, MA 01450
(978) 448-1100
Groton-Dunstable Regional School Committee Meeting
Wednesday, September 26 2018 at 5:30 PM
High School - Library, 703 Chicopee Row Groton, MA

This meeting was posted Thursday, September 20 2018 at 3:20 PM
Agenda

MEETING NOTICE
Meeting Notification Date : September 20, 2018
Meeting Date September 26, 2018
Meeting Time : 5:30 PM
Meeting Location Library/Groton-Dunstable Regional High School
703 Chicopee Row, Groton, MA 01450
Meeting Type : Policy Sub-Committee or Special School Committee Meeting with Policy Focus1
Anticipated2 Agenda3:
1. Review and discuss research and proposed revision status of policies, including but not limited to those listed below:
ADF
School District Wellness Program
ECAF
Security Cameras in Schools
EEAA
Walkers and Riders
JF
School Admissions
JK
Student Conduct (mislabeled on district website)
JIC
Student Discipline
KE
Public Complaints
KHA
Advertising and Public Solicitation
2. Update re: attorney review of the following policies:
JBR
Students Who Are Transgender and/or Gender-Nonconforming
JBR-E
Building Based Plan for Students Who Are Transgender and/or Gender-Non Conforming
3. Future Meetings: Discuss and prioritize list of additional policies Committee wants to review.
 Chair to assign policy sections to each Policy member to be reviewed and proposed revisions tracked/proposed at future meetings.
The listing of topics that the Chair reasonably anticipates will be discussed at the meeting is not intended as a guarantee of the topics that will have been discussed. Not all topics listed may in fact be discussed, and other topics not listed may also be brought up for discussion to the extent permitted by law.