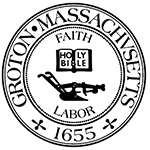 Town of Groton
Meeting Notice
Town Clerk
173 Main Street
Groton, MA 01450
(978) 448-1100
Groton-Dunstable Regional School Committee Meeting
Wednesday, September 5 2018 at 7:00 PM
Other: See Agenda, Specified in Agenda ,

This meeting was posted Friday, August 31 2018 at 3:15 PM
Agenda
Groton-Dunstable Regional School District
SCHOOL COMMITTEE MEETING
September 5, 2018 – 7:00 PM
Groton-Dunstable Regional High School - Library
703 Chicopee Row, Groton, MA
Posted: Friday, August 31, 2018/3:00pm
School Committee Regular Meeting
Anticipated1 Agenda2.
7:00 PM
A. Call to Order-
B. Questions and Comments from the Public
C. Reports
a. Chair
i. Transportation/Pickup & Drop off - respectful
community feedback
ii. Darcy Schultz
1. HIPAA limits and concerns
2. Protocol resolution concerns
3. Gender-non-conforming/LGTBQ+
friendliness and protection in the district
iii. Revised School Calendar - Vote
iv. Policies Second Read
a. JB- Equal Educational Opportunities
- Discussion/Vote
b. JB-R-E- Plan for Students who are
Transgender or Gender
Nonconforming - Discussion/Vote
c. JB-R - Procedure for Students Who
Are Transgender - Discussion/Vote
v. Liaison Reports
vi. FY20 Budget Priorities & Guidance to
Superintendent - Discussion/Vote
b. Superintendent
i. Enrollment/Class Size Update
ii. SC Overarching Goals FY18-19 - Discussion/Vote
c. Director of Business and Finance
i. Swallow Union Boiler Award
D. Approval of Minutes - 5/30/18, 6/27/18, 7/10/18, 8/15/18
E. Vote to Accept Warrant Articles
1
The listing of topics that the Chair reasonably anticipates will be discussed at the meeting is not intended as a guarantee of the topics that will have been discussed. Not all topics listed may in fact be discussed, and other topics not listed may also be brought up for discussion to the extent permitted by law.