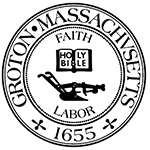 Town of Groton
Meeting Notice
Town Clerk
173 Main Street
Groton, MA 01450
(978) 448-1100
Affordable Housing Trust Fund Meeting
Thursday, May 23 2013 at 6:00 PM
Town Hall: First Floor Meeting Room, 173 Main Street Groton, MA

This meeting was posted Friday, May 10 2013 at 9:55 AM
Agenda
Town of Groton Affordable Housing Trust
1. Review proposed addendum to Boynton Meadows investment agreement. Votes may be taken.
2. Discuss planned re-issuance of Squannacook Hall RFP. Votes may be taken.
3. Report on DHCD housing conference which featured Groton 43D overlay district which is the only municipality in the Commonwealth to have permitted affordable housing to date.
4. At 7:30 pm, move meeting upstairs to the Planning Board's regularly scheduled meeting to attend continued public hearing on Boynton Meadows special permit modification application.
The listing of topics that the Chair reasonably anticipates will be discussed at the meeting is not intended as a guarantee of the topics that will have been discussed. Not all topics listed may in fact be discussed, and other topics not listed may also be brought up for discussion to the extent permitted by law.