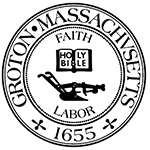 Town of Groton
Meeting Notice
Town Clerk
173 Main Street
Groton, MA 01450
(978) 448-1100
Town of Groton Affordable Housing Trust Meeting
Thursday, September 6 2018 at 7:00 PM
Town Hall: First Floor Meeting Room, 173 Main Street Groton, MA

This meeting was posted Thursday, August 16 2018 at 4:22 PM
Agenda
Meeting Notice
Date: Thursday, September 6, 2018
Time: 7:00 PM
Location: Town Hall: First Floor Meeting Room, 173 Main Street Groton, MA
Agenda
Meet with candidates for vacancy on the housing trust. Votes may be taken.
Meet with Town Manager regarding a possible affordable housing idea involving town land. Votes may be taken.
Update on new affordable housing projects including 63 Gratuity Road. Votes may be taken.
Update on already permitted affordable housing projects including Reedy Meadows and Boynton Meadows. Votes may be taken.
Discuss Master Plan Implementation Committee's request for review of housing goal to "use CPA funds to address a broader range of affordable housing needs, even if the CPA-assisted units do not qualify for Chapter 40B Subsidized Housing Inventory". Votes may be taken.
Review draft minutes from July 12, 2018 meeting. Votes may be taken.
The listing of topics that the Chair reasonably anticipates will be discussed at the meeting is not intended as a guarantee of the topics that will have been discussed. Not all topics listed may in fact be discussed, and other topics not listed may also be brought up for discussion to the extent permitted by law.