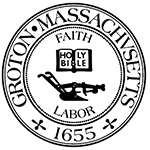 Town of Groton
Meeting Notice
Town Clerk
173 Main Street
Groton, MA 01450
(978) 448-1100
Mass DOT Highway Division Meeting
Wednesday, June 6 2018 at 6:00 PM
Legion Hall, 75 Hollis Street Groton, MA

This meeting was posted Tuesday, May 22 2018 at 10:07 AM
Agenda
LEGAL NOTICE
TOWN OF GROTON
PUBLIC HEARING
The Town of Groton in conjunction with Mass DOT will hold a public hearing on Wednesday, June 6, 2018 @ 6:00pm at the Legion Hall, 75 Hollis Street, Groton, MA for the purpose discussing the plans to construct sidewalks from the intersection of Old Ayer Road and Boston Road to 106 Boston Road and from 344 Main Street to Mill Run Plaza.
All interested parties are encouraged to attend.
R. Thomas Delaney, Jr.
DPW Director
Groton Herald
The listing of topics that the Chair reasonably anticipates will be discussed at the meeting is not intended as a guarantee of the topics that will have been discussed. Not all topics listed may in fact be discussed, and other topics not listed may also be brought up for discussion to the extent permitted by law.