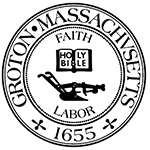 Town of Groton
Meeting Notice
Town Clerk
173 Main Street
Groton, MA 01450
(978) 448-1100
Conservation Commission Meeting
Tuesday, April 23 2013 at 5:30 PM
Middle School Cafeteria, 342 Main Street Groton, MA

This meeting was posted Friday, April 12 2013 at 12:13 PM
Agenda
**Please note change in time and meeting location**
APPOINTMENTS AND HEARINGS
OTHER BUSINESS
Approval of minutes of April 9, 2013
Discuss and issues Orders of Conditions for DEP#169-1094 for 8 Hazelwood Dr. tight tank and DEP#169-1093 for Weed Harvesting at Baddacook Pond
Site visit follow-up
Open Session for topics not reasonably anticipated 48 hours in advance of meeting
Land management tasks
Executive Session pursuant to MGL c. 30A, §21, cl. 6 (To consider the purchase, exchange
lease or value of real estate, if the chair declares than an open meeting may have a detrimental effect on the negotiating position of the public body.)
The following was added Thursday, April 18, 2013 3:34 PM
REVISED AGENDA: 04-18-2013 3:33pm npierce
**Please note change in time and meeting location**
April 23, 2013
Middle School Cafeteria
5:30 p.m.
APPOINTMENTS AND HEARINGS
OTHER BUSINES
Approval of minutes of April 9, 2013
Discuss and issues Orders of Conditions for DEP#169-1094 for 8 Hazelwood Dr. tight tank and DEP#169-1093 for Weed Harvesting at Baddacook Pond
Discuss and sign off on the Conservation Restriction for Baddacook Field
Site visit follow-up
Open Session for topics not reasonably anticipated 48 hours in advance of meeting
Land management tasks
Executive Session pursuant to MGL c. 30A, §21, cl. 6 (To consider the purchase, exchange
lease or value of real estate, if the chair declares than an open meeting may have a detrimental effect on the negotiating position of the public body.)
The listing of topics that the Chair reasonably anticipates will be discussed at the meeting is not intended as a guarantee of the topics that will have been discussed. Not all topics listed may in fact be discussed, and other topics not listed may also be brought up for discussion to the extent permitted by law.