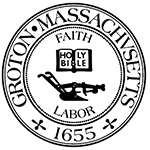 Town of Groton
Meeting Notice
Town Clerk
173 Main Street
Groton, MA 01450
(978) 448-1100
Historic Districts Commission Meeting
Tuesday, April 2 2013 at 7:00 PM
Town Hall: Second Floor Meeting Room, 173 Main Street Groton, MA

This meeting was posted Monday, March 11 2013 at 6:05 PM
Agenda
AGENDA
Special Meeting
Tuesday, APRIL 2, 2013
2nd Floor Meeting Room, Town Hall 7:00 PM
Identify members present.
7:05 P: 13 Pleasant Street: application for a Certificate of Appropriateness – remove one of two chimneys; install new Harvey Ind. Windows or replace existing triple track storm windows with new HI storms; remove 2 existing picture windows and install new HI triple & double mulled window; applicant Denis Boucher; votes may be taken.
7:30P: 134 Main Street: PUBLIC HEARING - application for an amendment to the Certificate of Appropriateness (previously issued) as part of SP 2011-15; proposed addition of a lower level entrance to the north side of the existing approved plan including handicapped accessible ramp and railings; applicant Mount Laurel Development LLC.; vote(s) may be taken.
Other Business: Minutes: 3/19/13 - vote(s) may be taken.
The listing of topics that the Chair reasonably anticipates will be discussed at the meeting is not intended as a guarantee of the topics that will have been discussed. Not all topics listed may in fact be discussed, and other topics not listed may also be brought up for discussion to the extent permitted by law.