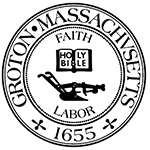 Town of Groton
Meeting Notice
Town Clerk
173 Main Street
Groton, MA 01450
(978) 448-1100
Affordable Housing Trust Fund Meeting
Thursday, January 10 2013 at 6:00 PM
Town Hall: First Floor Meeting Room, 173 Main Street Groton, MA

This meeting was posted Monday, December 31 2012 at 12:05 PM
Agenda
Update on area organizations involved in affordable housing:
1. As of May 1st, Groton Commons will become a no smoking property. This change is considered healthful by HUD, but in the short run will negatively impact one long term resident who smokes and will need new housing.
2. Habitat for Humanity of North Central Masschusetts is seeking a new project and is open to working in Groton.
Update on Boynton Meadows.
Other topics:
1. Oakridge comprehensive permit project.
2. Housing Production Plan update.
3. Accessory apartments. Allowed by Groton zoning and considered a form of affordable housing by the Commonwealth. Discuss whether Trust wants to encourage the creation of accessory apartments.
Votes may be taken.
The listing of topics that the Chair reasonably anticipates will be discussed at the meeting is not intended as a guarantee of the topics that will have been discussed. Not all topics listed may in fact be discussed, and other topics not listed may also be brought up for discussion to the extent permitted by law.