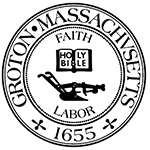 Town of Groton
Meeting Notice
Town Clerk
173 Main Street
Groton, MA 01450
(978) 448-1100
Board of Selectmen Meeting
Monday, March 2 2015 at 7:00 PM
Town Hall: First Floor Meeting Room, 173 Main Street Groton, MA

This meeting was posted Thursday, April 12 2018 at 4:00 PM
Agenda
Revised Agenda 02-26-2015 8:27am npierce
7:00 P.M. Announcements and Review Agenda for the Public
7:05 P.M. Public Comment Period – Votes May Be Taken
I. 7:15 P.M. Town Manager's Report
1. Selectmen's Agenda Schedule
2. Ratify the Appointment by the Town Manager of Michael Chiasson as IT Director – Vote May Be Taken
3. Review and Accept Financial Disclosure Filed by Conservation Commission Chairman John Smigelski – Vote May Be Taken
4. Review the First Draft of the 2015 Annual Spring Town Meeting Warrant – Votes May Be Taken
OTHER BUSINESS
Consider the vote of the Conservation Commission requesting that the Board of Selectmen pay the amount of $10,000 for the hiring of an outside consultant regarding Sonar treatment in Baddacook Pond – Vote May Be Taken
SELECTMEN LIAISON REPORTS
II. Minutes:
Executive Session Meeting of February 23, 2015
Regular Session Meeting of February 23, 2015
ADJOURNMENT
----------------------------------------------------------------------------------
5:00 P.M. Work Session – Review Board of Selectmen's Policies and Procedures – Votes May Be Taken
6:00 P.M. Work Session – Review and Approve Proposed Policy on the Annual Review of the Town Manager – Votes May Be Taken
7:00 P.M. Regular Meeting Commences - Announcements and Review Agenda for the Public
7:05 P.M. Public Comment Period – Votes May Be Taken
I. 7:15 P.M. Town Manager's Report
1. Selectmen's Agenda Schedule
2. Ratify the Appointment by the Town Manager of Michael Chiasson as IT Director – Vote May Be Taken
3. Review and Accept Financial Disclosure Filed by Conservation Commission Chairman John Smigelski – Vote May Be Taken
4. Review the First Draft of the 2015 Annual Spring Town Meeting Warrant – Votes May Be Taken
OTHER BUSINESS
(added 2/25) Consider the vote of the Conservation Commission requesting that the Board of Selectmen the applicant pay the amount of $10,000 for the hiring of an outside consultant regarding Sonar treatment in Baddacook Pond. Vote may be taken.
SELECTMEN LIAISON REPORTS
II. Minutes:
Executive Session Meeting of February 23, 2015
Regular Session Meeting of February 23, 2015
ADJOURNMENT
Posted Feb 25 2015 9:11 am (mb)
The listing of topics that the Chair reasonably anticipates will be discussed at the meeting is not intended as a guarantee of the topics that will have been discussed. Not all topics listed may in fact be discussed, and other topics not listed may also be brought up for discussion to the extent permitted by law.