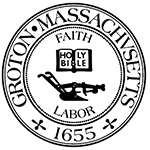 Town of Groton
Meeting Notice
Town Clerk
173 Main Street
Groton, MA 01450
(978) 448-1100
Board of Selectmen Meeting
Monday, March 19 2018 at 7:00 PM
Town Hall: Second Floor Meeting Room, 173 Main Street Groton, MA

This meeting was posted Thursday, March 15 2018 at 8:04 AM
Agenda
BOARD OF SELECTMEN MEETING
MONDAY, MARCH 19, 2018
AGENDA
SELECTMEN'S MEETING ROOM
1st FLOOR
GROTON TOWN HALL

7:00 P.M. Announcements and Review Agenda for the Public

7:05 P.M. Public Comment Period – Votes May Be Taken

I. 7:06 P.M. Town Manager's Report

1. Selectmen's Agenda Schedule
2. Review and Approve Revised Financial Policies – Vote May Be Taken
3. Update from Town Manager on Non-Binding Questions Concerning Recreational Marijuana – Consider Placing Questions on the May 22, 2018 Annual Election Ballot – Vote May Be Taken
4. Prescott School Update – Engineering Review – Vote May Be Taken
5. Update from Town Manager on Holding Adjourned Session of Spring Town Meeting on a Saturday – Vote May Be Taken
6. FY 2018 Budget Update – Vote May Be Taken

II. 7:15 P.M. In Joint Session with the Finance Committee – Public Hearing on the 2018 Spring Town Meeting Warrant – Vote May Be Taken

OTHER BUSINESS
- Request Extension from Town Manager on 21 Day Deadline for Board Members to Complete Individual Reviews of the Town Manager – Vote May Be Taken

SELECTMEN LIAISON REPORTS

III. Minutes: - Regularly Scheduled Meeting of March 5, 2018

ADJOURNMENT


The following was added Monday, March 19, 2018 11:30 AM

MEETING HAS BEEN MOVED TO THE SECOND FLOOR MEETING ROOM The listing of topics that the Chair reasonably anticipates will be discussed at the meeting is not intended as a guarantee of the topics that will have been discussed. Not all topics listed may in fact be discussed, and other topics not listed may also be brought up for discussion to the extent permitted by law.