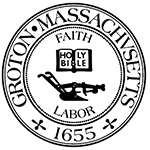 Town of Groton
Meeting Notice
Town Clerk
173 Main Street
Groton, MA 01450
(978) 448-1100
Groton-Dunstable Regional School Committee Meeting
Wednesday, March 14 2018 at 6:00 PM
Other: See Agenda, Specified in Agenda ,

This meeting was posted Monday, March 12 2018 at 8:07 AM
Agenda
Groton-Dunstable Regional School District
SPECIAL SCHOOL COMMITTEE WORKSHOP
March 14, 2018 – 6:00 PM
Groton-Dunstable Regional High School Library
703 Chicopee Row, Groton MA
Posted 3.9.18 – 2:00 PM
Special School Committee Workshop (special Meeting)
Anticipated1 Agenda2
6:00 PM I. Call to Order
II. Discuss goals, strategy, timelines, and FY 2019 budget impacts for each
of the following:
1. General Education
? WIN Block/Enrichment and Support (non-IEP)
o UDL: design of curriculum that supports growth for all students
o iReady
? Changes in Instructional Time
o 5th Grade (ELA/Math)
o Half-day Kindergarten Specials
o Art and STEM at Middle School
2. Special Education
? Co-teaching evaluation, including metrics
? Use of paraprofessionals versus specialized classroom teachers
3. Building Security
? Middle School-transitions between North and South buildings
7:00 PM III. Adjourn
The listing of topics that the Chair reasonably anticipates will be discussed at the meeting is not intended as a guarantee of the topics that will have been discussed. Not all topics listed may in fact be discussed, and other topics not listed may also be brought up for discussion to the extent permitted by law.