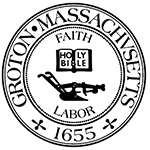 Town of Groton
Meeting Notice
Town Clerk
173 Main Street
Groton, MA 01450
(978) 448-1100
Board of Selectmen Meeting
Monday, February 26 2018 at 6:00 PM
Town Hall: First Floor Meeting Room, 173 Main Street Groton, MA

This meeting was posted Thursday, February 22 2018 at 9:50 AM
Agenda
BOARD OF SELECTMEN MEETING
MONDAY, FEBRUARY 26, 2018
AGENDA
SELECTMEN'S MEETING ROOM
1st FLOOR
GROTON TOWN HALL
6:00 P.M. Executive Session – Pursuant to M.G.L. c30A, §21(a)(3) – "To discuss strategy with respect to collective bargaining or litigation if an open meeting may have a detrimental effect on the bargaining or litigating position of the public body and the chair so declares"
7:00 P.M. Announcements and Review Agenda for the Public
7:05 P.M. Public Comment Period – Votes May Be Taken
I. 7:06 P.M. Town Manager's Report
1. Selectmen's Agenda Schedule
2. Consider Ratifying Town Manager's Appointment of Stephen Straker as a Water Operator for the Water Department – Vote May Be Taken
3. Review and Approve Request for Proposal for the Lease of the Prescott School – Votes May Be Taken
4. Review Town Manager's Search Process for Chief of Police Search Pursuant to Section 4-5 of the Groton Charter – Vote May Be Taken
5. Discuss Issues and Consider Taking Positions Related to the Proposed Fiscal Year 2019 Operating Budget, Including Adding an Additional School Resource Officer to Police Department – Vote May Be Taken
II. 7:15 P.M. In Joint Session with the Sewer Commission – Consider Appointing Evan Boucher to Fill the Vacancy on the Sewer Commission until the Annual Election – Vote May Be Taken
OTHER BUSINESS
- Determine if the Board of Selectmen Will Place a Question on the 2018 Spring Ballot Asking Residents to Approve or Reject the Sale and/or Cultivation of Marijuana – Review Chief's Response for Information – Votes May Be Taken.
- Review Email Response Policy with Regard to Town Manager's Response to an Email Received from a Resident – Vote May Be Taken
- Discuss Selectman Pease's Opinion of a Potential Violation of the Board's Policies that Occurred During the Meeting of February 12, 2018 of Board of Selectmen Practice for Waiting One Meeting Before Voting on Items of Significance Which are not Explicitly listed for Consideration on the Agenda – Vote May Be Taken
- Discuss Implications of the Inspector General's Inquiry in Light of a Clear and Consistent Chain-of-Events Which Led to the Board of Selectmen Violation of Massachusetts Procurement Laws with its Vote on February 12, 2018 Regarding the Leasing of a Municipal Structure – Vote May Be Taken
- Consider Reassigning Liaisons to Improve Trust Between the Board of Selectmen and Other Elected/Appointed Boards and Town Departments – Vote May Be Taken
SELECTMEN LIAISON REPORTS
III. Minutes: - Regularly Scheduled Meeting of January 29, 2018
ADJOURNMENT
The following was added Thursday, February 22, 2018 11:37 AM
REVISED AGENDA 02-22-2018 11:37am npierce
BOARD OF SELECTMEN MEETING
MONDAY, FEBRUARY 26, 2018
AGENDA
SELECTMEN'S MEETING ROOM
1st FLOOR
GROTON TOWN HALL
6:00 P.M. Executive Session – Pursuant to M.G.L. c30A, §21(a)(3) – "To discuss strategy with respect to collective bargaining or litigation if an open meeting may have a detrimental effect on the bargaining or litigating position of the public body and the chair so declares"
7:00 P.M. Announcements and Review Agenda for the Public
7:05 P.M. Public Comment Period – Votes May Be Taken
I. 7:06 P.M. Town Manager's Report
1. Selectmen's Agenda Schedule
2. Consider Ratifying Town Manager's Appointment of Stephen Straker as a Water Operator for the Water Department – Vote May Be Taken
3. Discussion/Decision – Request Regional School Committee Consider Dunstable as Part of Feasibility Study for Florence Roche School Per Proportional Allocation of the Budget – Vote May Be Taken
4. Review and Approve Request for Proposal for the Lease of the Prescott School – Votes May Be Taken
5. Review Town Manager's Search Process for Chief of Police Search Pursuant to Section 4-5 of the Groton Charter – Vote May Be Taken
6. Discuss Issues and Consider Taking Positions Related to the Proposed Fiscal Year 2019 Operating Budget, Including Adding an Additional School Resource Officer to Police Department
The listing of topics that the Chair reasonably anticipates will be discussed at the meeting is not intended as a guarantee of the topics that will have been discussed. Not all topics listed may in fact be discussed, and other topics not listed may also be brought up for discussion to the extent permitted by law.