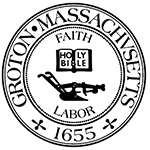 Town of Groton
Meeting Notice
Town Clerk
173 Main Street
Groton, MA 01450
(978) 448-1100
Groton-Dunstable Regional School Committee Meeting - CANCELED by fstanley@townofgroton.org
Wednesday, January 17 2018 at 7:00 PM
Other: See Agenda, Specified in Agenda ,

This meeting was posted Tuesday, January 9 2018 at 3:30 PM
Agenda
This meeting has been canceled by fstanley@townofgroton.org
Groton-Dunstable Regional School District
SPECIAL JOINT SCHOOL COMMITTEE MEETING WITH DUNSTABLE ADVISORY
January 17, 2018
Groton-Dunstable Regional High School Library
703 Chicopee Row, Groton MA
Posted 1.9.18 – 3:15 PM
Joint School Committee with Dunstable Advisory
Anticipated1 Agenda2
7:00 PM I. Call to Order
II. SC Agenda Items
1. MSBA Program Overview for Florence Roche (Info)
a. Effects on Dunstable
2. School Budget Process (Info)
a. Tentative Assessment Estimates for Dunstable with and without debt.
b. Factors that could possible alter figures prior to SC approval of budget (i.e. state funding).
III. Dunstable Advisory Agenda Items
1. Dunstable long-term budget projections
2. Dunstable expectations on funding mechanisms for FY 2019 Capital Expenses
3. Dunstable Certified Free Cash FY 2017
IV. Adjourn
Please note Dunstable will be staying after our meeting to continue their meeting and they will be discussing their FY 2019 budget amongst other things.
Meeting posted 01-08-2018 3:30pm npierce
The listing of topics that the Chair reasonably anticipates will be discussed at the meeting is not intended as a guarantee of the topics that will have been discussed. Not all topics listed may in fact be discussed, and other topics not listed may also be brought up for discussion to the extent permitted by law.