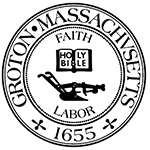 Town of Groton
Meeting Notice
Town Clerk
173 Main Street
Groton, MA 01450
(978) 448-1100
Groton-Dunstable Regional School Committee Meeting
Wednesday, November 28 2012 at 6:30 PM
Other: See Agenda, Specified in Agenda ,

This meeting was posted Monday, November 26 2012 at 8:21 AM
Agenda
Groton-Dunstable Regional School District
SCHOOL COMMITTEE MEETING AGENDA
Wednesday, November 28, 2012
Groton-Dunstable Regional High School Library
School Committee (regular meeting) including Executive Session
Anticipated1 Agenda2:
6:30 PM I. Call to Order
A. Vote to enter into Executive Session for the purpose to discuss
strategy with respect to collective bargaining or litigation, if an open
meeting might have a detrimental effect. Collective bargaining may
also be conducted in accordance with M.G.L. Ch30A, Sec 21 a-3 for
the purpose of Unit D.
B. Reconvene to regular meeting.
7:02 PM II. Pledge of Allegiance – Students from the Middle School
Middle School Teacher, Nicole Stone, will introduce students,
Emily Miller (Grade 5) and Matthew Liliedahl (Grade 6)
7:10 PM III. Announcements
7:15 PM IV. Approval of Minutes – November 14, 2012 SC Minutes – (Action)
7:20 PM V. Vote to Accept Warrant Articles
7:23 PM VI. Questions and Comments from the Public
7:26 PM VII. Presentations
A. MASS Certificate of Academic Excellence (Info) – T. Bent/M. Mastrullo
Emma Ordemann
B. Technology Integration Specialist (Info) – A. Kaplan
C. GDEF Grants Announcement – Lorrie Morgan
8:05 PM VIII. Reports
A. Subcommittees
B. Superintendent
C. Director of Business and
Meeting posted: 11-26-2012 8:21am npierce
The listing of topics that the Chair reasonably anticipates will be discussed at the meeting is not intended as a guarantee of the topics that will have been discussed. Not all topics listed may in fact be discussed, and other topics not listed may also be brought up for discussion to the extent permitted by law.