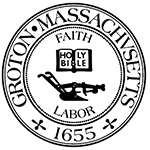 Town of Groton
Meeting Notice
Town Clerk
173 Main Street
Groton, MA 01450
(978) 448-1100
Board of Selectmen Meeting
Monday, September 18 2017 at 7:00 PM
Town Hall: First Floor Meeting Room, 173 Main Street Groton, MA

This meeting was posted Thursday, September 14 2017 at 8:47 AM
Agenda
BOARD OF SELECTMEN MEETING
MONDAY, SEPTEMBER 18, 2017
AGENDA
SELECTMEN'S MEETING ROOM
1ST FLOOR
GROTON TOWN HALL
7:00 P.M. Announcements and Review Agenda for the Public
7:05 P.M. Public Comment Period – Votes May Be Taken
I. 7:06 P.M. Town Manager's Report
1. Selectmen's Agenda Schedule
2. Consider Ratifying the Following Appointments of the Town Manager – Votes May Be Taken:
Maureen Adema – Land Use Administrative Assistant
Megan Brideau Foster – Assistant Assessor
3. Consider Appointing Val Prest and Diana Keaney to the Recycling Committee – Votes May Be Taken
4. Consider Appointing the Following Individuals to the Prescott School Oversight Committee – Votes May Be Taken: An Hee Foley, John Amaral & Heather Rielly
5. Consider Appointing Marlena Gilbert to the Audit Review Committee – Vote May Be Taken
6. In Compliance with Board Policy – Review and Determine the Release of Executive Session Meeting Minutes – Vote May Be Taken
II. 7:15 P.M. Public Hearing – In Joint Session with the Finance Committee – Review the October 23, 2017 Fall Town Meeting Warrant – Votes May Be Taken
OTHER BUSINESS
- Consider Adopting the Following Policy – Warrant Articles Received from Groton Dunstable Regional School Committee Shall Automatically Be Placed on the Warrant Regardless of the Board's Position on the Article – Vote May Be Taken
SELECTMEN LIAISON REPORTS
III. Minutes: Executive Session Meeting of July 24, 2017
ADJOURNMENT
The following was added Monday, September 18, 2017 11:23 AM
The PUBLIC HEARING for the Warrant Review will start at 7:30 pm (not 7:15 pm)
The listing of topics that the Chair reasonably anticipates will be discussed at the meeting is not intended as a guarantee of the topics that will have been discussed. Not all topics listed may in fact be discussed, and other topics not listed may also be brought up for discussion to the extent permitted by law.