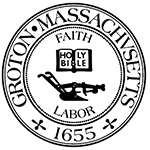 Town of Groton
Meeting Notice
Town Clerk
173 Main Street
Groton, MA 01450
(978) 448-1100
Finance Committee Meeting
Monday, September 18 2017 at 7:30 PM
Town Hall: First Floor Meeting Room, 173 Main Street Groton, MA

This meeting was posted Friday, September 8 2017 at 9:47 AM
Agenda
FINANCE COMMITTEE MEETING
Town Hall Selectmen's First Floor Meeting Room
173 Main St., Groton, MA
Monday, September 18th, 2017 – 7:30 P.M.
AGENDA
Discussion Topics to include:
Public Hearing: FY17 Fall Town Meeting Warrant
At the conclusion of the Public Hearing, the Finance Committee will adjourn to the 1st Floor Conference Room to discuss other business:
Committee will take positions on Town Meeting Warrant Articles
Consideration of Reserve Fund Transfer Requests for FY18
(Fire Dept. FLSA Audit/ Town Clerk Wage Adj.)
Discussion of FY19 Budget Guidance
Approval of Minutes: 09/13/17, 8/16/17, 7/11/17
VOTES WILL BE TAKEN
The listing of topics that the Chair reasonably anticipates will be discussed at the meeting is not intended as a guarantee of the topics that will have been discussed. Not all topics listed may in fact be discussed, and other topics not listed may also be brought up for discussion to the extent permitted by law.