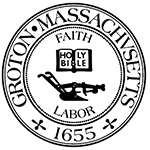 Town of Groton
Meeting Notice
Town Clerk
173 Main Street
Groton, MA 01450
(978) 448-1100
Groton-Dunstable Regional School Committee Meeting
Wednesday, September 13 2017 at 7:00 PM
Other: See Agenda, Specified in Agenda ,

This meeting was posted Thursday, September 7 2017 at 1:34 PM
Agenda
Please note: Meeting content, start times and duration are subject to change Page 1
Groton-Dunstable Regional School District
SPECIAL SCHOOL COMMITTEE MEETING
SUMMIT MEETING AGENDA GDRSD, DUNSTABLE BOARD OF SELECTMEN, DUNSTABLE ADVISORY, GROTON BOARD OF SELECTMEN, AND GROTON FINANCE COMMITTEE
September 13, 2017 – 7:00 PM
Groton-Dunstable Regional High School Library
703 Chicopee Row, Groton MA
Posted 9.7.17 – 1:30 PM
Special School Committee Meeting (special Meeting)
Summit Meeting GDRSD, Dunstable Board of Selectmen, Dunstable Advisory,
Groton Board of Selectmen, and Groton Finance Committee
Anticipated1 Agenda2.
7:00 PM I. Call to Order
A. Summary of goals/agenda of Summit Meeting
B. Resources/Revenue Discussion – Presentation
C. Review Current Financial Projections
1. School Committee
2. Dunstable
3. Groton
D. Explore Establishing GDRSD Budget Growth Rates
E. Update GDRSD Programmatic Audits
F. Review Proposed Approach to Establishing Stabilization Fund
G. Next Steps
Note: action items will be handled as business is presented
Meeting posted 09-07-2017 1:34pm npierce
The listing of topics that the Chair reasonably anticipates will be discussed at the meeting is not intended as a guarantee of the topics that will have been discussed. Not all topics listed may in fact be discussed, and other topics not listed may also be brought up for discussion to the extent permitted by law.