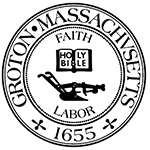 Town of Groton
Meeting Notice
Town Clerk
173 Main Street
Groton, MA 01450
(978) 448-1100
Groton-Dunstable Regional School Committee Meeting
Wednesday, August 2 2017 at 5:30 PM
Other: See Agenda, Specified in Agenda ,

This meeting was posted Friday, July 28 2017 at 12:56 PM
Agenda
Meeting Notification Date : July 28, 2017
Meeting Date August 2, 2017
Meeting Time : 5:30 PM
Meeting Location Prescott School, First Floor Conference Room
145 Main St, Groton, MA 01450
Meeting Type : Policy Sub-Committee or Special School Committee Meeting with Policy Focus1
Anticipated2 Agenda3:
1. Review and discuss research and proposed revisions of policies, including but not limited to those listed below:
EEAEA
Bus Driver Examination & Training
BEDH
Public Participation at School Committee Meetings
BEDH-E
Guidelines for Public Comments
EFCD
Meal Charge Policy
GCA
Professional Staff Positions
EFCD
Meal Charge Policy
IJOA
Field Trip and Athletic Trips
JF
School Admissions
JIB
Student Involvement in Decision Making
JJF
Student Activity Accounts
JJH
Student Travel
JJH-R
Field Trips & Athletic Trips - Late Night/Overnight Travel Regs
JQ
Student Fees, Fines, and Charges
KE
Public Complaints
KEB
Public Complaints About School Personnel
KEB-R
Public Complaints About School Personnel
KEC
Public Complaints About Curriculum or Instructional Materials
KHA
Public Solicitations in the Schools
KHB
Advertising in the Schools
2. Future meeting scheduling
3. Approve Minutes from 6/21/2017
The listing of topics that the Chair reasonably anticipates will be discussed at the meeting is not intended as a guarantee of the topics that will have been discussed. Not all topics listed may in fact be discussed, and other topics not listed may also be brought up for discussion to the extent permitted by law.