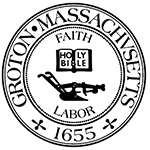 Town of Groton
Meeting Notice
Town Clerk
173 Main Street
Groton, MA 01450
(978) 448-1100
Groton-Dunstable Regional School Committee Meeting
Friday, November 16 2012 at 7:00 PM
Other: See Agenda, Specified in Agenda ,

This meeting was posted Friday, November 9 2012 at 9:14 AM
Agenda
RESCHEDULED FROM NOVEMBER 15TH TO NOVEMBER 16TH
SPECIAL SCHOOL COMMITTEE MEETING
DATE: November 9, 2012
TO: Groton Selectmen
Groton Finance Committee
Dunstable Selectmen
Dunstable Finance Committee
Mark Haddad, Groton Town Manager
FROM: The Groton-Dunstable Regional School Committee
Anthony Bent, Superintendent
The School Committee and I would like to invite you to a special meeting for Groton-Dunstable
officials to discuss the status of the school district's budget for FY13 and some preliminary
indicators of the projected budget for FY14.
The meeting will take place in the Prescott School, 145 Main Street, Groton on Thursday,
November 16th from 8:00 AM to 9 AM.
The specific agenda is as follows:
08:00 Welcome/Introductions
08:10 Update on FY13
08:20 Update on Middle School Roof Replacement
08:30 FY14 School Budget
? Update on emerging fiscal profile
? Timeline for continued development
08:55 Questions/Discussion
09:00 Adjourn
GROTON-DUNSTABLE REGIONAL SCHOOL DISTRICT
P.O. Box 729 ? Groton, MA 01450-0729 ? Tel.: 978.448.5505 ? Fax: 978.448.9402
The listing of topics that the Chair reasonably anticipates will be discussed at the meeting is not intended as a guarantee of the topics that will have been discussed. Not all topics listed may in fact be discussed, and other topics not listed may also be brought up for discussion to the extent permitted by law.