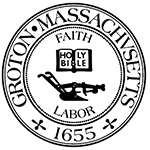 Town of Groton
Meeting Notice
Town Clerk
173 Main Street
Groton, MA 01450
(978) 448-1100
Groton-Dunstable Regional School Committee Meeting
Wednesday, April 5 2017 at 5:30 PM
Other: See Agenda, Specified in Agenda ,

This meeting was posted Monday, April 3 2017 at 1:34 PM
Agenda
MEETING NOTICE
Meeting Notification Date : April 3, 2017
Meeting Date : April 5, 2017
Meeting Time : 5:30 PM
Meeting Location : Central Office/Prescott School Conference Room
145 Main Street, Groton, MA
Meeting Type : Policy Sub-Committee or Special School Committee Meeting with Policy Focus1
Anticipated2 Agenda3:
1. Review and Comment on the Following to be presented by Jill Greene, Director of Pupil Personnel Services and/or Dr. Katie Novak, Assistant Superintendent
? DD Funding Proposals & Applications
? EEAEA Bus Driver Examination & Training
? GCBC Professional Staff Supplemental Pay
? IJ Instructional Materials
? IJNDC Internet Publications
? JIB Student Involvement in Decision Making
? JKAA Physical Restraints of Students
2. Continuation of review of ADF - Wellness Policy
? Administration report on Wellness Coordinator designees
? Administration report on current recess given (per day/time) at each grade level for Grades K-8
? Review process for selecting Wellness Committee members and notice to community for application of same per ADF
? Review and discuss policy language changes
3. Approval of minutes from March 22, 2017
The listing of topics that the Chair reasonably anticipates will be discussed at the meeting is not intended as a guarantee of the topics that will have been discussed. Not all topics listed may in fact be discussed, and other topics not listed may also be brought up for discussion to the extent permitted by law.