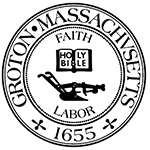 Town of Groton
Meeting Notice
Town Clerk
173 Main Street
Groton, MA 01450
(978) 448-1100
Groton-Dunstable Regional School Committee Meeting
Wednesday, March 22 2017 at 5:30 PM
Other: See Agenda, Specified in Agenda ,

This meeting was posted Monday, March 20 2017 at 1:57 PM
Agenda
MEETING NOTICE
Meeting Notification Date : March 20, 2017
Meeting Date : March 22, 2017
Meeting Time : 5:30 PM
Meeting Location : Groton Dunstable Regional High School, Library
703 Chicopee Row, Groton, MA 01450
Meeting Type : Policy Sub-Committee or Special School Committee Meeting with Policy Focus1
Anticipated2 Agenda3:
1. Review and Comment on the Following:
? ADF – Wellness Policy
? BEDB – Agenda Format
? BEDB-E-2 - 2010-2011 Agenda Format (GD)
? BEDH – Public Participation at School Committee Meetings
? BEDH-E – Guidelines for Public Comment
? KEB – Public Complaints About School Personnel
? KEB-R – Public Complaints About School Personnel
? KEC – Public Complaints About Curriculum or Instructional Materials
2. Approval of minutes March 15, 2017
The listing of topics that the Chair reasonably anticipates will be discussed at the meeting is not intended as a guarantee of the topics that will have been discussed. Not all topics listed may in fact be discussed, and other topics not listed may also be brought up for discussion to the extent permitted by law.