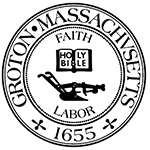 Town of Groton
Meeting Notice
Town Clerk
173 Main Street
Groton, MA 01450
(978) 448-1100
Groton Sewer Commission Meeting
Monday, March 20 2017 at 7:00 PM
Town Hall: First Floor Meeting Room, 173 Main Street Groton, MA

This meeting was posted Thursday, March 16 2017 at 10:51 AM
Agenda
Official Notice of a Public Meeting
AGENDA
Groton Sewer Commission
March 20, 2017 @ 7:00 P.M.
Town Hall, 173 Main Street
1st Floor Meeting Room
7:00 PM Call the Groton Sewer Commission Meeting to Order
7:01 PM Joint Session with BOS on FY 2018 Operating Budget
7:40 PM Other Business, Bills, Minutes etc….
Next Meeting Date: March 22, 2017
Pursuant to MGL Chapter 39, Section 23B
The Town Clerk's official posting of all meetings occurs as it is time stamped "in" and actually posted on the Bulletin Board and not when
the e-mail is sent/received. 48 hours is required for the posting of any
meeting unless it is an "Emergency" meeting of the governing body.
Meeting posted 03-16-2017 10:51am npierce
The listing of topics that the Chair reasonably anticipates will be discussed at the meeting is not intended as a guarantee of the topics that will have been discussed. Not all topics listed may in fact be discussed, and other topics not listed may also be brought up for discussion to the extent permitted by law.