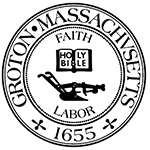 Town of Groton
Meeting Notice
Town Clerk
173 Main Street
Groton, MA 01450
(978) 448-1100
Groton-Dunstable Regional School Committee Meeting
Thursday, November 8 2012 at 4:00 PM
Other: See Agenda, Specified in Agenda ,

This meeting was posted Tuesday, November 6 2012 at 2:26 PM
Agenda
The agenda for this meeting will be as follows:
1. Approval of Minutes from October 11, 2012 Meeting
2. FY 2014 Budget – Update
3. Update – Bathrooms in South
4. SIP Update
5. SLACK- Update
6. Adjournment
The council assists the principal in:
1. Adopting educational policies for the school that are consistent with local educational policies and statewide student performance standards
2. Identifying the educational needs of students attending the school
3. Reviewing the annual school building budget
4. Formulating a School Improvement Plan
Meeting posted: 11-06-2012 2:26pm npierce
The listing of topics that the Chair reasonably anticipates will be discussed at the meeting is not intended as a guarantee of the topics that will have been discussed. Not all topics listed may in fact be discussed, and other topics not listed may also be brought up for discussion to the extent permitted by law.