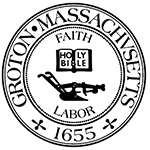 Town of Groton
Meeting Notice
Town Clerk
173 Main Street
Groton, MA 01450
(978) 448-1100
Groton-Dunstable Regional School Committee Meeting
Tuesday, February 28 2017 at 7:00 PM
Other: See Agenda, Specified in Agenda ,

This meeting was posted Tuesday, February 14 2017 at 12:40 PM
Agenda
Groton-Dunstable Regional School Committee FY 2018 Budget Public Hearing
The Groton-Dunstable Regional School District School Committee will conduct a Public Hearing on the Preliminary FY 2018 Budget in the High School Library beginning at 7:00 p.m. on Tuesday, February 28, 2017. After the presentation, the public will have an opportunity to comment. Copies of the preliminary budget will be available for review on the district website, Groton Town Hall, Dunstable Town Hall and the respective public libraries by Friday, February 10, 2017.
GROTON-DUNSTABLE REGIONAL SCHOOL DISTRICT
P.O. Box 729 ? Groton, MA 01450-0729 ? Tel.: 978.448.5505 ? Fax: 978.448.9402
Meeting posted 02-14-2017 12:39pm npierce
The following was added Friday, February 17, 2017 10:20 AM
Groton-Dunstable Regional School District
SPECIAL SCHOOL COMMITTEE MEETING AGENDA
February 28, 2017
Groton-Dunstable Regional High School Library
703 Chicopee Row, Groton MA
Posted 2.17.17 – 10:00 AM
School Committee (regular meeting)
Anticipated1 Agenda2
7:00 PM I. Call to Order
7:02 PM PUBLIC HEARING ON SCHOOL BUDGET FY 2018
8:00 PM II. Revised Regional Agreement (Vote)
(All SC Members Need To Be Present)
8:15 PM III. Policies Adoption – Second Reading (Vote)
8:30 PM IV. 2017-18 Calendar Discussion (Possible Vote)
9:00 PM V. Swallow Union Lease (Vote)
9:15 PM V. Approval of February 7, 2017 School Committee Minutes
Note: action items will be handled as business is presented
The listing of topics that the Chair reasonably anticipates will be discussed at the meeting is not intended as a guarantee of the topics that will have been discussed. Not all topics listed may in fact be discussed, and other topics not listed may also be brought up for discussion to the extent permitted by law.