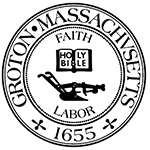 Town of Groton
Meeting Notice
Town Clerk
173 Main Street
Groton, MA 01450
(978) 448-1100
Groton-Dunstable Regional School Committee Meeting
Tuesday, January 10 2017 at 5:30 PM
Other: See Agenda, Specified in Agenda ,

This meeting was posted Friday, January 6 2017 at 11:26 AM
Agenda
MEETING NOTICE
Meeting Notification Date : January 6, 2017
Meeting Date : January 10, 2017
Meeting Time : 5:30 PM
Meeting Location : Groton-Dunstable Regional High School Library
703 Chicopee Row, Groton, MA
Meeting Type : Policy Sub-Committee or Special School Committee Meeting with Policy Focus1
Anticipated2 Agenda3:
I. Reorganization
11. Review, revise, and recommend for adoption.
a. GBEC - Drug Free Workplace Policy
b. IHAMB – Teaching about Alcohol, Tobacco, and Drugs
c. JICH – Alcohol, Tobacco, and Drug Use by Students Prohibited
d. JJF – Student Activity Accounts
e. JLCD – Administering Medications to Students
f. EBC – Emergency Plans Policy
g. ECAF – Security Cameras in Schools
h. IJND - Access to Digital Resources
i. IJNDB – Empowered Digital Use Policy
j. IJNDC – Internet Publication
k. JKAA – Physical Restraint
l. DGA – Financial Oversight
m. DJE – 'Draft' Bidding Requirements Changes
n. Other policies that merit review/discussed for future meetings
111. Approval of Minutes – 9.13.16 and 10.11.16
The listing of topics that the Chair reasonably anticipates will be discussed at the meeting is not intended as a guarantee of the topics that will have been discussed. Not all topics listed may in fact be discussed, and other topics not listed may also be brought up for discussion to the extent permitted by law.