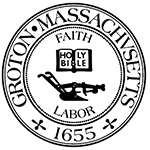 Town of Groton
Meeting Notice
Town Clerk
173 Main Street
Groton, MA 01450
(978) 448-1100
Historic Districts Commission Meeting
Tuesday, June 20 2017 at 7:30 PM
Town Hall: Second Floor Meeting Room, 173 Main Street Groton, MA

This meeting was posted Wednesday, June 14 2017 at 4:04 PM
Agenda
AGENDA
Regular Meeting
Tuesday, JUNE 20, 2017
Town Hall 2nd floor meeting room 7:30 PM
Identify members present.
7:35P 85 Farmers Row – Lot 1A: Loon Hill Development – PUBLIC HEARING - application for construction of a new single family home (3,777 sq. ft,, 4 bedrooms, 3.75 baths, attached 3 car garage); Daniel Chasse, Henry Arnaudo presenting, votes may be taken.
8:00 P 10 Hollis Street: application for a temporary sign permit, Veterinary Health Care of Groton, Claire Thomas, D.V.M. presenting, votes may be taken.
8:15P Historic Districts-4 commons: aplications for Certificates of Appropriateness for Eagle Scout project to provide solar powered lighting for the flags / flagpoles within the districts on town commons: Badger, Legion, Minuteman & Prescott; Kyle Zimmer presenting, votes may be taken.
The listing of topics that the Chair reasonably anticipates will be discussed at the meeting is not intended as a guarantee of the topics that will have been discussed. Not all topics listed may in fact be discussed, and other topics not listed may also be brought up for discussion to the extent permitted by law.