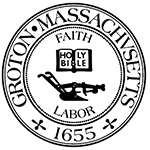 Town of Groton
Meeting Notice
Town Clerk
173 Main Street
Groton, MA 01450
(978) 448-1100
Historic Districts Commission Meeting
Tuesday, February 21 2017 at 7:30 PM
Town Hall: Second Floor Meeting Room, 173 Main Street Groton, MA

This meeting was posted Wednesday, February 15 2017 at 7:58 AM
Agenda
AGENDA
Regular Meeting
Tuesday, FEBUARY 21, 2017
Town Hall 2nd floor meeting room 7:30 PM
Identify members present.
7:35P Board reorganization, votes may be taken
7:45P Powderhouse Road - Parish House: confirm hardware for replacement storm door(s), votes may be taken.
7:50P 282 Farmers Row - Groton School – Schoolhouse: review letter from Attorney Collins re: doors & overhang on east facade of building.
7:55P 154 Farmers Row: Bard Salmon request for extension of previously approved expansion project; votes may be taken.
8:00P Review annual report, votes may be taken
8:05P 44 Main Street – Lawrence Academy: application for lighting for previously approved entrance sign; votes may be taken.
8:20P 30 B Hollis Street - Frames With A History: application for sign permit, Janine Lavalley presenting; votes may be taken.
The listing of topics that the Chair reasonably anticipates will be discussed at the meeting is not intended as a guarantee of the topics that will have been discussed. Not all topics listed may in fact be discussed, and other topics not listed may also be brought up for discussion to the extent permitted by law.