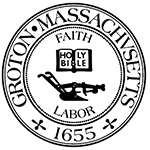 Town of Groton
Meeting Notice
Town Clerk
173 Main Street
Groton, MA 01450
(978) 448-1100
Board of Selectmen Meeting
Monday, March 11 2013 at 7:00 PM
Town Hall: First Floor Meeting Room, 173 Main Street Groton, MA

This meeting was posted Wednesday, March 6 2013 at 2:24 PM
Agenda
7:00 P.M. Announcements and Review Agenda for the Public
I. 7:05 P.M. Town Manager's Report
1. Selectmen's Agenda Schedule
2. Ratification of Appointment of Michael Hartnett as Treasurer/Collector – Vote May Be Taken
3. Update on Center Fire Station Construction
4. Consider the Appointment of Jay Prager to the Bylaw Committee
5. Ratify the Following Appointments by the Town Manager - Votes May Be Taken
Paula Martin – 88 Jenkins Road – Election Worker
Fran Stanley – 19 Court Street – Election Worker
Dawn Dunbar – Election Worker
Margot Hammer – Election Worker
Bill Farnsworth – Temporary Building Commissioner
II. 7:15 P.M. Senator Eileen Donoghue & Representative Sheila Harrington –
Legislative Update
III. 7:30 P.M. Patricia DuFresne – Update on Senior Work-Off Program
IV. 7:45 P.M. Review First Draft of 2013 Spring Town Meeting Warrant
OTHER BUSINESS
SELECTMEN LIAISON REPORTS
V. Minutes: Regularly Scheduled Meeting of February 12, 2013
Executive Session Meeting of February 25, 2013
ADJOURNMENT
The following was added Thursday, March 07, 2013 9:27 AM
Added March 7:
Consider the appointment of Jay Prager to the Bylaw Review Committee. A VOTE MAY BE TAKEN
The following was added Monday, March 11, 2013 3:39 PM
The Board of Selectmen to consider opening the Spring Town Meeting warrant for the purpose of adding an article to allow for a Concept Plan approval discussion of a project being proposed for 120 Boston Rd. VOtes may be taken.
The listing of topics that the Chair reasonably anticipates will be discussed at the meeting is not intended as a guarantee of the topics that will have been discussed. Not all topics listed may in fact be discussed, and other topics not listed may also be brought up for discussion to the extent permitted by law.