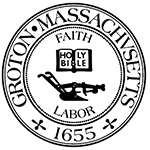 Town of Groton
Meeting Notice
Town Clerk
173 Main Street
Groton, MA 01450
(978) 448-1100
Groton-Dunstable Regional School Committee Meeting
Wednesday, February 10 2016 at 7:00 PM
Other: See Agenda, Specified in Agenda ,

This meeting was posted Friday, January 29 2016 at 10:08 AM
Agenda
Groton-Dunstable Regional School Committee FY 2017 Budget Public Hearing
The Groton-Dunstable Regional School District School Committee will conduct a Public Hearing on the Preliminary FY 2017 Budget in the High School Library beginning at 7:15 p.m. on February 10, 2016. After the presentation, the public will have an opportunity to comment. Copies of the preliminary budget will be available for review on the district website, Groton Town Hall, Dunstable Town Hall and the respective public libraries by Friday, February 5, 2016.
The following was added Monday, February 08, 2016 9:13 AM
Please note: Meeting content, start times and duration are subject to change Page 1
Groton-Dunstable Regional School District
SCHOOL COMMITTEE MEETING AGENDA
February 10, 2016
Groton-Dunstable Regional High School Library
703 Chicopee Row, Groton MA
School Committee (regular meeting)
Anticipated1 Agenda2
7:00 PM I. Call to Order
7:02 PM II. Pledge of Allegiance - Florence Roche
7:05 PM III. Questions and Comments from the Public
7:10 PM IV. Announcements – Abigail Varveake, Student Rep
7:15 PM PUBLIC HEARING ON SCHOOL BUDGET FY 2017
8:15 PM V. Presentations
A. Spring Sports Cape Field Trips (vote)
8:25 PM VI. Reports
A. Subcommittees
B. Superintendent
1. Good News
C. Director of Budget and Finance
D. Chair
1. School Calendar 2016-2017 Discussion (Info)
8:50 PM VII. Discussions
8:55 PM VIII. Approval of Minutes – SC Minutes 1.27.16
9:00 PM IX. Vote to Accept Warrant Articles
9:05 PM X. New Business
9:10 PM XI. Adjournment
Revised Meeting Posted 02-08-2016 9:05am npierce
The listing of topics that the Chair reasonably anticipates will be discussed at the meeting is not intended as a guarantee of the topics that will have been discussed. Not all topics listed may in fact be discussed, and other topics not listed may also be brought up for discussion to the extent permitted by law.