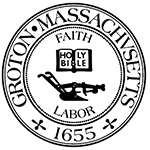 Town of Groton
Meeting Notice
Town Clerk
173 Main Street
Groton, MA 01450
(978) 448-1100
Historic Districts Commission Meeting
Tuesday, February 23 2016 at 7:30 PM
Town Hall: First Floor Meeting Room, 173 Main Street Groton, MA

This meeting was posted Thursday, February 18 2016 at 1:33 PM
Agenda
AGENDA
Regular Meeting
Tuesday, FEBRUARY 23, 2016
1st Floor Meeting Room, Town Hall 7:30 PM
Identify members present.
7:35P Farmers Row campus: Groton School-Gardner House: PUBLIC HEARING cont'd to consider an application for a Certificate of Appropriateness for the demolition of the Gardner House situated behind Hundred House on the Groton School campus (Assessors Map 219-Parcel 9), Attorney Robert Collins presenting, votes may be taken.
Hundred House – informal discussion re: the addition of an exterior accessible ramp (to match the existing ramp on the other end of the building), votes may be taken.
8:00P 274 MAIN STREET: sign permit application(s) – 1st application: for EBS net, Sarah Richardson, applicant; votes may be taken.
2nd application: for The Practical Planner, John Konetzny, applicant, votes may be taken.
8:20P 99 MAIN STREET – Groton Public Library: application for an amendment to a previous certificate (for an additional book drop unit and landscaping features) and submission of additional details of landscaping plan & safety fence for retaining wall repair, votes may be taken.
8:40 P 1 POWDERHOUSE ROAD – First Parish Church: application for repair & painting of steeple, bell tower & front of building; also re-roof of bell tower; votes may be taken.
8:55P 159 MAIN STREET: replacement sign permit application, Josiah Coleman, applicant, votes may be taken.
Meeting posted 02-18-2016 1:32pm npierce
The listing of topics that the Chair reasonably anticipates will be discussed at the meeting is not intended as a guarantee of the topics that will have been discussed. Not all topics listed may in fact be discussed, and other topics not listed may also be brought up for discussion to the extent permitted by law.