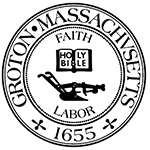 Town of Groton
Meeting Notice
Town Clerk
173 Main Street
Groton, MA 01450
(978) 448-1100
Historic Districts Commission Meeting
Tuesday, October 16 2012 at 7:30 PM
Town Hall: Second Floor Meeting Room, 173 Main Street Groton, MA

This meeting was posted Wednesday, October 3 2012 at 8:39 AM
Agenda
LEGAL NOTICE
GROTON HISTORIC DISTRICTS COMMISSION
PUBLIC HEARING
LAWRENCE HOMESTEAD TRUST
FARMERS ROW
ASSESSORS MAP 108-PARCEL 1
In accordance with the provisions of Massachusetts General Laws, Chapter 40C, the Groton Historic Districts Commission (GHDC) will hold a Public Hearing on TUESDAY, OCTOBER 16, 2012, at 7:45 p.m. at Town Hall, 173 Main Street, Groton, to consider the application submitted by the Town of Groton, Mark Haddad – Town Manager for a Certificate of Appropriateness to construct a new Center Fire Station located at Farmers Row (Assessors Map 108 – Parcel 1), Groton, Massachusetts. Property owner(s): Lawrence Homestead Trust.
Copies of the application and supporting materials are available for review by contacting the Town of Groton Land Use Department, 173 Main St. - 2nd floor, Groton, MA 01450.
Daniel J. Barton
Chairman
The listing of topics that the Chair reasonably anticipates will be discussed at the meeting is not intended as a guarantee of the topics that will have been discussed. Not all topics listed may in fact be discussed, and other topics not listed may also be brought up for discussion to the extent permitted by law.