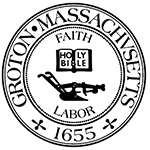 Town of Groton
Meeting Notice
Town Clerk
173 Main Street
Groton, MA 01450
(978) 448-1100
Council On Aging Meeting
Monday, October 15 2012 at 9:00 AM
Groton Senior Center, 163 West Main Street Groton, MA

This meeting was posted Monday, October 1 2012 at 9:57 AM
Agenda
* Open Meeting - (Fran Goldbach, Chairperson)
* Review/Approve Meeting Minutes, September 10, 2012
* Chair, Fran Goldbach, (Secretary)
* Treasurer's Report - (Carl Flowers)
* Outreach Report - (Stacey Shepard Jones)
* Activity/Volunteer Report - (Bethany Loveless)
* LEPC Up-Date - (Carl Flower's)
* Director's Report -Discussion, (Martha A. Campbell)
Old Business:
* 2012 Annual Report
* October 4th Craft Fair
* Groton-fest PR
* Bill Marshall Retirement Party/MySeniorCenter financial support will continue
New Business:
* Donation of $1000.00 from the Groton Police Union for Veterans Breakfast/Social Lunch
* Gibbet Hill Holiday Dinner/Tickets
* Thanksgiving Holiday 22nd/Closed 23rd.
* Street Captains' Campaign
* Evaluations completed
* Bethany Loveless new hire
The listing of topics that the Chair reasonably anticipates will be discussed at the meeting is not intended as a guarantee of the topics that will have been discussed. Not all topics listed may in fact be discussed, and other topics not listed may also be brought up for discussion to the extent permitted by law.