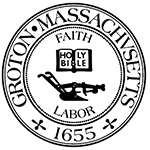 Town of Groton
Meeting Notice
Town Clerk
173 Main Street
Groton, MA 01450
(978) 448-1100
Groton-Dunstable Regional School Committee Meeting
Tuesday, September 15 2015 at 7:00 PM
Other: See Agenda, Specified in Agenda ,

This meeting was posted Friday, September 11 2015 at 1:07 PM
Agenda
MEETING NOTICE
Meeting Notification Date : September 11, 2015
Meeting Date : September 15, 2015
Meeting Time : 7:00 PM
Meeting Location : Prescott School/Central Office Conference Room
Meeting Type : PECC Advisory Committee or Special School Committee Meeting with PECC Focus1
Anticipated2 Agenda3:
1. Review of committee goals – assessment of current communication practices, strategy
recommendations for community engagement.
2. Recap of work to-date and committee check in (please come prepared to share your thoughts).
3. Discuss state of current School Committee communications – methods, reach, effectiveness, etc. (please come prepared with a point of view based on our personal experience and/or any conversations you have had with community members).
4. Discuss any additional information needs required to begin work on strategy recommendations (Please come prepared to discuss how confident you are that we have identified the critical information needs, and how confident you are that you understand which channels effectively reach which key constituent groups).
5. Discuss vision for interim and final deliverables.
6. Discuss road map and next steps for deliverable development.
7. Approve minutes from prior meetings.
1
The listing of topics that the Chair reasonably anticipates will be discussed at the meeting is not intended as a guarantee of the topics that will have been discussed. Not all topics listed may in fact be discussed, and other topics not listed may also be brought up for discussion to the extent permitted by law.