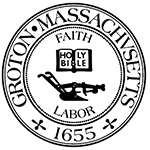 Town of Groton
Meeting Notice
Town Clerk
173 Main Street
Groton, MA 01450
(978) 448-1100
Conservation Commission Meeting
Tuesday, March 24 2015 at 7:00 PM
Town Hall: Second Floor Meeting Room, 173 Main Street Groton, MA

This meeting was posted Friday, January 1 2010 at 12:00 AM
Agenda
Groton Conservation Commission
Agenda
Tuesday, March 24, 2015
Town Hall, 2nd Floor
7:00 p.m.
APPOINTMENTS AND HEARINGS*
7:00 p.m. – Public Meeting: RDA, General Field, Farmers Row (Groton Conservation Trust)
7:15 p.m. – Public Hearing (cont'd): NOI, Herbicide Treatment, Baddacook Pond (Board of Selectmen)
DEP File #169-1123
8:00 p.m. – Discussion: Revised Regulations under Groton Wetlands Protection Bylaw
GENERAL BUSINESS*
• Order of Conditions, Old Ayer Road (MacGregor), DEP #169-1121
• Order of Conditions, 69 Boathouse Road (Chapman), DEP #169-1122
• Meeting Minutes Approval – 1/13/15, 2/24/15 (revised) & 3/10/15
• Invoices
• Land Management
o Invasive Species
o Keystone Training
• CPC Update
• Pipeline Working Group Update
Open Session for topics not reasonably anticipated 48 hours in advance of meeting*
Adjournment
*Votes may be taken
The listing of topics that the Chair reasonably anticipates will be discussed at the meeting is not intended as a guarantee of the topics that will have been discussed. Not all topics listed may in fact be discussed, and other topics not listed may also be brought up for discussion to the extent permitted by law.