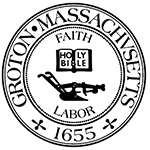 Town of Groton
Meeting Notice
Town Clerk
173 Main Street
Groton, MA 01450
(978) 448-1100
Groton-Dunstable Regional School Committee Meeting
Wednesday, November 26 2014 at 8:00 AM
Other: See Agenda, Specified in Agenda ,

This meeting was posted Friday, January 1 2010 at 12:00 AM
Agenda
MEETING LOCATION: Middle School North Library Conference Room
MEETING NOTICE
Meeting Notification Date : November 18, 2014
Meeting Date : November 26, 2014
Meeting Time : 8:00 AM
Meeting Location : Middle School North Library Conference Room
346 Main Street, Groton, MA
Meeting Type : Budget and Finance Sub-Committee or Special School Committee Meeting with Budget and Finance Focus1
Anticipated2 Agenda3:
1. Review and approve minutes for October 22nd meeting
2. Preparation for Financial Review Committee Meeting, December 10th
3. Warrant signing, process, and status
4. Review current end of FY 2015 expenditure projection in the context of the approved FY 2015 budget
5. Role of B&F Sub-Committee in the FY 2016 budget preparation and approval process
6. FY 2016 budget preparation and approval schedule update
7. Establish region school transportation reimbursement fund
8. Other Post-Employment Benefits (OPEB) update
9. Decision on whether or not to try for a capital stabilization fund for FY 2016
10. Review Section D (Financial) of proposed GDRSD Policy Manual for additions, recessions and changes (process discussion and schedule)
1
The listing of topics that the Chair reasonably anticipates will be discussed at the meeting is not intended as a guarantee of the topics that will have been discussed. Not all topics listed may in fact be discussed, and other topics not listed may also be brought up for discussion to the extent permitted by law.