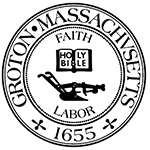 Town of Groton
Meeting Notice
Town Clerk
173 Main Street
Groton, MA 01450
(978) 448-1100
Town of Groton Affordable Housing Trust Meeting
Thursday, November 20 2014 at 7:00 PM
Town Hall: First Floor Meeting Room, 173 Main Street Groton, MA

This meeting was posted Tuesday, November 4 2014 at 8:59 AM
Agenda
1. Review draft minutes from October 9, 2014. Votes may be taken.
2. Review affordable housing aspects and overall project completion schedules for Boynton Meadows with Bob France of Mount Laurel Development. Votes may be taken.
3. Discuss progress in finding interested candidates for trustee opening on the housing trust. Votes may be taken.
4. Discuss Groton Residential Gardens Unit 503B which is in foreclosure to see if the housing trust will engage in efforts to preserve affordability. Votes may be taken.
The listing of topics that the Chair reasonably anticipates will be discussed at the meeting is not intended as a guarantee of the topics that will have been discussed. Not all topics listed may in fact be discussed, and other topics not listed may also be brought up for discussion to the extent permitted by law.