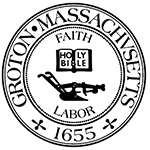 Town of Groton
Meeting Notice
Town Clerk
173 Main Street
Groton, MA 01450
(978) 448-1100
Groton-Dunstable Regional School Committee Meeting
Wednesday, September 12 2012 at 7:00 PM
Other: See Agenda, Specified in Agenda ,

This meeting was posted Monday, September 10 2012 at 2:51 PM
Agenda
LOCATION: High School Library
7:00 PM I. Call to Order
7:02 PM II. Pledge of Allegiance – Students from the High School Choir
A. National Anthem – HS Choir
7:10 PM III. Announcements
A. Comments from students who attended and sang at the London Olympics
7:15 PM IV. Approval of Minutes – June 19, 2012 SC Minutes – (Action)
July 26, 2012 Special B&F Minutes – (Action)
August 31, 2012 Special B&F Minutes – (Action)
7:17 PM V. Vote to Accept Warrant Articles
7:18 PM VI. Questions and Comments from the Public
7:20 PM VII. Presentations
A. District Goals – A. Bent & CO Administrators – (Action)
B. Educator Evaluation: Memorandum of Understanding – (Comments)
C. Field Trips, 1st Approval – Spain and France 2013
Costa Rica 2013
7:40 PM VIII. Reports
A. Subcommittees
B. Superintendent
1. Comments after eight weeks as Superintendent
C. Director of Business and Finance
1. Transfer of Funds for FY 12 – (Action)
D. Advisory Committees
E. Chair
7:50 PM IX. Discussions
7:55 PM X. New Business
8:00 PM XI. Adjournment
The listing of topics that the Chair reasonably anticipates will be discussed at the meeting is not intended as a guarantee of the topics that will have been discussed. Not all topics listed may in fact be discussed, and other topics not listed may also be brought up for discussion to the extent permitted by law.