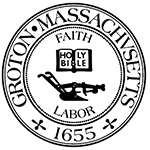 Town of Groton
Meeting Notice
Town Clerk
173 Main Street
Groton, MA 01450
(978) 448-1100
Conservation Commission Meeting
Tuesday, October 28 2014 at 7:00 PM
Town Hall: Second Floor Meeting Room, 173 Main Street Groton, MA

This meeting was posted Wednesday, October 22 2014 at 10:51 AM
Agenda
Groton Conservation Commission
Agenda
October 28, 2014
Town Hall
7:00 p.m.
APPOINTMENTS AND HEARINGS*
7:00 p.m. – Public Hearing (cont'd): NOI, Landfill Remediation, Groton School Pond (Groton School)
7:20 p.m. – Public Meeting: RDA, Underground Fuel Storage Tank, 85 Hubbard Lane (W. Kane)
7:30 p.m. – Public Hearing: NOI, Resource Improvement, 171 Lowell Road (S. Horowitz)
7:45 p.m. – Public Hearing: NOI, Single-Family Home Reconstruction, 99 Boathouse Road (G. Holly)
8:00 p.m. – Public Meeting: RDA, Proposed Eagle Project, Sargisson Beach (I. Henriques)
8:10 p.m. – Discussion: Minor Plan Revision; 6 Wyman Road (E. Sgrosso)
GENERAL BUSINESS*
• Order of Conditions for 94 Lovers Lane, Country Club Driving Range, DEP #169-1115
• Order of Conditions for 42 Ridgewood Avenue, Septic Upgrade, DEP #169-1114
• Order of Conditions for 162 Shelters Road, Private Well
• Meeting Minutes Approval
• Invoices
• Land Management
o Baddacook Field/Shattuck Homestead
o Williams Barn – Retaining Wall Repair
o Conservation Property Inventory
o Invasive Species Management
o Trails – Updates
• Pipeline Working Group Committee– Updates
• Wetlands Bylaw Regulations – Review
o Coordination with Stormwater Bylaw Regulations
Open Session for topics not reasonably anticipated 48 hours in advance of meeting*
Adjournment
*Votes may be taken
The listing of topics that the Chair reasonably anticipates will be discussed at the meeting is not intended as a guarantee of the topics that will have been discussed. Not all topics listed may in fact be discussed, and other topics not listed may also be brought up for discussion to the extent permitted by law.