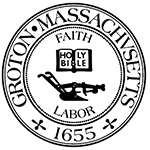 Town of Groton
Meeting Notice
Town Clerk
173 Main Street
Groton, MA 01450
(978) 448-1100
Conservation Commission Meeting
Tuesday, July 22 2014 at 7:00 PM
Town Hall: Second Floor Meeting Room, 173 Main Street Groton, MA

This meeting was posted Wednesday, July 16 2014 at 3:16 PM
Agenda
Groton Conservation Commission
Agenda
July 22, 2014
Town Hall
7:00 p.m.
APPOINTMENTS AND HEARINGS*
7:00 p.m. – Public Hearing: NOI, Sargisson Beach Restoration, Sargisson Beach Committee
7:15 p.m. – Public Hearing (cont'd): NOI, Groton School Landfill Remediation, DEP #169-1084
7:30 p.m. – Public Hearing: NOI, Septic System Upgrade, 61 Ridgewood Avenue, DEP #169-1111
7:45 p.m. – Public Meeting: RDA, Retaining Wall Repair, 315 Lost Lake Drive
7:55 p.m. – Public Meeting: RDA, Footbridge, Flavell Crossing CA, Blake Abraham, Scout Troop 3
8:05 p.m. – Discussion: Enforcement Order, 331 Boston Road
GENERAL BUSINESS*
• Meeting Minutes Approval
• Invoices
• Land Management
o Conservation Property Inventory
o Fixed Assets Inventory – FY15
o Survey Access – Tennessee Gas Pipeline
o Baddacook Field/Shattuck Homestead
o Invasive Species Management
o O'Neill Way
o Trails - Updates
• Community Preservation Committee Updates
• 2014 Fall Town Meeting Warrant
• Land Acquisition
o Schofield Parcel 251-71, LAND Grant Application
o West Groton Parcels 106-31 & 106-32
• Executive Session pursuant to MGL Ch. 30A, Sec. 21(6). "To consider the purchase, exchange lease or value of real estate, if the chair declares that an open meeting may have a detrimental effect on the negotiating position of the public body."
Open Session for topics not reasonably anticipated 48 hours in advance of meeting*
Adjournment
*Votes may be taken
The listing of topics that the Chair reasonably anticipates will be discussed at the meeting is not intended as a guarantee of the topics that will have been discussed. Not all topics listed may in fact be discussed, and other topics not listed may also be brought up for discussion to the extent permitted by law.