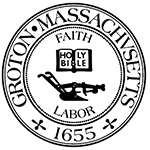 Town of Groton
Meeting Notice
Town Clerk
173 Main Street
Groton, MA 01450
(978) 448-1100
Great Pond Advisory Committee Meeting
Wednesday, August 22 2012 at 7:00 PM
Town Hall: Small Conference Room, 173 Main Street Groton, MA

This meeting was posted Monday, August 20 2012 at 8:32 AM
Agenda
MEETING STARTS AT 7:15 PM
Agenda
Discussion and acceptance of July 25th minutes.
Financial Report
Presentation by CPC member relevant to funding eligible projects such as weed management and re-opening of Sargisson Beach. Also new developments under the CPA.
Retrieval & Storage of GPAC's Water Quality Monitoring Equipment.
Does anyone know where the Garmin GPS is?
Identification of legislative bill to promote weed management at State Boat Launches.
Whitney Pond Update
Baddacook Pond Update
LL/KP Update
Status of NOI & RMP
DNA Fieldwork & Interim Report on Endangered Species
Board of Health vote to take Lake Tour with GLA?
GLA to man Grotonfest booth to help develop interest and support for the lakes. Sign up sheet for free boat tours for Sept 29th's Meet the Lake Day.
Meet the Lake Day September 29th will offer free boat tours of LL/KP from Grotonwood.
Harvesting Update
New Business
The listing of topics that the Chair reasonably anticipates will be discussed at the meeting is not intended as a guarantee of the topics that will have been discussed. Not all topics listed may in fact be discussed, and other topics not listed may also be brought up for discussion to the extent permitted by law.