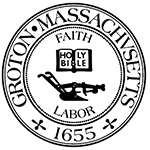 Town of Groton
Meeting Notice
Town Clerk
173 Main Street
Groton, MA 01450
(978) 448-1100
Board of Selectmen Meeting
Monday, January 6 2014 at 7:00 PM
Town Hall: First Floor Meeting Room, 173 Main Street Groton, MA

This meeting was posted Thursday, January 2 2014 at 10:37 AM
Agenda
BOARD OF SELECTMEN MEETING
MONDAY, JANUARY 6, 2014
AGENDA
SELECTMEN'S MEETING ROOM
1ST FLOOR
GROTON TOWN HALL
7:00 P.M. Announcements and Review Agenda for the Public
I. 7:05 P.M. Town Manager's Report
1. Selectmen's Agenda Schedule
2. Proposed Selectmen Meeting Schedule – Vote May Be Taken
3. Appoint the Following Individuals to the Ad Hoc Polling Location Committee – Vote May Be Taken
Michelle Collette
Brooks Lyman
Stuart Schulman
Scott Harker
Berta Erickson
Carol Quinn
Susan Slade
II. 7:15 P.M. In Joint Session with the Finance Committee – Presentation of the Town Manager's Proposed FY 2015 Operating Budget
OTHER BUSINESS
SELECTMEN LIAISON REPORTS
III. Minutes: Regularly Scheduled Meeting of December 9, 2013
ADJOURNMENT
The following was added Friday, January 03, 2014 12:01 PM
ITEM 3 is ADDED-------------
7:00 P.M. Announcements and Review Agenda for the Public
I. 7:05 P.M. Town Manager's Report
1. Selectmen's Agenda Schedule
2. Proposed Selectmen Meeting Schedule – Vote May Be Taken
3. Ratify Town Manager's Appointment of the following Special Police Officers:
Kathy Newell
Mike Ratte
4. Appoint the Following Individuals to the Ad Hoc Polling Location Committee – Vote May Be Taken
Michelle Collette
Brooks Lyman
Stuart Schulman
Scott Harker
Berta Erickson
Carol Quinn
Susan Slade
II. 7:15 P.M. In Joint Session with the Finance Committee – Presentation of the Town Manager's Proposed FY 2015 Operating Budget
OTHER BUSINESS
SELECTMEN LIAISON REPORTS
III. Minutes: Regularly Scheduled Meeting of December 9, 2013
ADJOURNMENT
The listing of topics that the Chair reasonably anticipates will be discussed at the meeting is not intended as a guarantee of the topics that will have been discussed. Not all topics listed may in fact be discussed, and other topics not listed may also be brought up for discussion to the extent permitted by law.